Eric has been beavering away to put together a resource site for UK companies that are working with Visual Basic 6 – click the big picture below to check it out;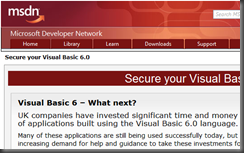 Some of the highlights include;
A great prize draw to win a free copy of a migration tool from Artinsoft or Code Architects (We have several to give away)
Great offers from our partners. How about a entry level great migration tool for just £199 or 25% off a full blown enterprise class tool
An attempt to summarise the five options you can take along witha 10 minute screencast by myself explaining the five options (and you can tell I had a cold when I recorded it!)
Links to the best resources to find out more
And a a brand new detailed article on the Interop Forms Toolkit which enables .NET forms and controls to be easily mixed with Visual Basic 6.0 forms and controls.
take a look.