I was in London speaking at the inaugural "Native Summit" event yesterday;

hosted at the really excellent Genesis Cinema;
this was an all-platforms "native app" event with a great line up of speakers;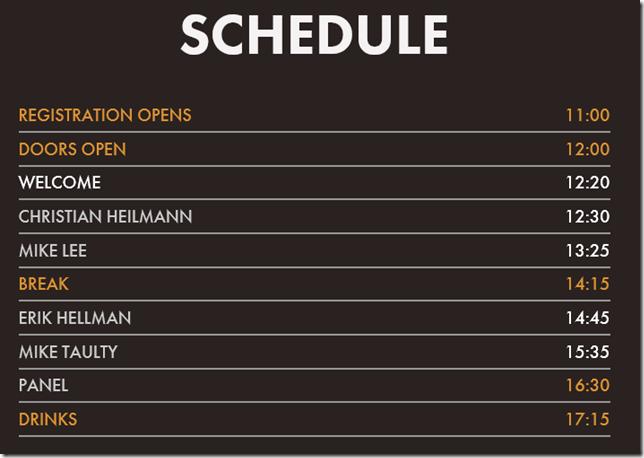 and I put together a talk with a slightly tongue-in-cheek title of "Microsoft. Has. An. App. Platform. With. Some. Interesting. Bits" which I'd hoped might appeal to whoever was in the audience whether they be primarily interested in Android, iOS, Windows platforms or whether they come at the topic from more of a cross-platform approach.
I had great fun with that talk and really appreciated that the audience seemed very much alive and engaged even though we were in a darkened cinema on a warm, sunny afternoon.
The event was streamed over the web and the sessions were recorded so I'll post the video of my talk here when the Native Summit guys have got it canned.
In the meantime, the very talented David Burton was at the event doing sketches to capture the essence of each talk and he drew this really great representation of what I talked about – linked back to his flickR stream for the event;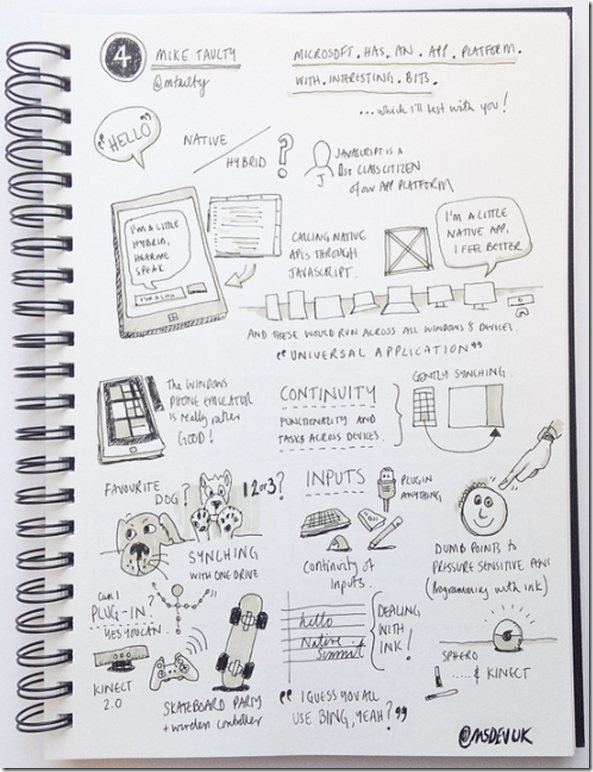 Thanks to all who came along – some great conversations and I'll update this post with the video of the session when I have it.
Update 1 – Session Feedback
Luke who ran the Native Summit event gave me the (anonymised) verbatim feedback from the event so I thought it'd fun to include that here in its entirety and I thought I'd have a light-hearted go at responses to some of it

The Good
Love how fluid code demos were and how up to date the technology used was.
Really interesting – had never occurred to me to wire up a Kinect to a motorised glowing ball before.
fun, interesting, packed with things
Microsoft have all the toys!
"I am already a bit of a (tentative) MS fanboy but I thought Mike did a fantastic job of showing off the platform and I felt genuinely excited to experience the surprise from others of how well-rounded and fun the MS offering is. Mike demonstrated his experience in public speaking and delivered and informative, fun and valuable talk.
Live coding done right. By not being live. Snippets are the way forward. 
I thought Mike was a fantastic speaker, and his demos were very well thought out, well presented, and really interesting. I haven't felt this excited about Microsoft and the potential of Microsoft hardware and software in a long time. 
This is such a treat, I would give it a 1 if it weren't for that failed demonstration. 
nice demos 
Varied and interesting. Well pitched. Only lost a point as there was too many javascript code examples over C# – but that's just a person thing. 😉
[MT] I'm a C# guy. However, I figured that given there were a lot of Android/iOS folks in the audience then JavaScript would be more of a lingua franca for this group of people. Otherwise, I'd have shown C#.
The amount of stuff he showed like the Kinect in JS and the Sphero ball were amazing, he made it look very simple and provided a lot of humour. Definitely was very engaging.
Was good, liked the hybrid applications now possible and he also engaged the audience very well and liked the fact he was showing everything realtime on stage 
Great presentation and demo. 
Great to see different things in Windows
I work for a Microsoft partner, so already working on Universal Apps. Was cool to see the JavaScript support though, and he was quite a funny guy. Was nice to laugh lots.
Good presentation showing the wide range of development opportunities on MS platform.
Nice way of showing how quickly you can throw things together on the new MS platforms.
The Mixed
I do think he was a bit over-apologetic for MS during the panel discussion and he would have done himself a favour by abstracting his opinion from the mothership a bit, but I suspect that's a tough default to kick."
[MT] Very fair comment. I always find panels a bit of a challenge because I can't speak for Microsoft other than to state facts where I happen to know them. So, on panels I feel like I'm always walking a line between "What does Mike think?" and "What does Microsoft think?".
Interesting talk but with little native development.
[MT] Sorry, I failed you. With the exception of the first demo where I talked about the difference between native and hybrid *EVERYTHING* I showed was a native app. Some of them were written in JavaScript. Some were written in .NET. Some were written in a mixture of JavaScript/C#/C++. But everything was a native app calling native WinRT APIs. Nothing was being done as a hybrid web app (other than the initial hybrid web app where I tried to make this point).
Stick to mobile / app content.
[MT] Sorry, I failed you too. There was *NOTHING* I showed here that wasn't an app built for the Windows/Phone app platform that could be submitted into either the Windows/Phone Stores. Everything was an app. Nothing was anything else. Some things were Phone apps. Some things were Windows apps but in my head they are all mobile apps. I'd reiterate that the stuff I was doing e.g. playing a game with an Xbox controller works on a small tablet.
The Ugly (well, not really)
Very funny, quite interesting, veered into being too salesy at points.
[MT] Ah, sorry – didn't mean to "sell" you anything other than the idea that Windows could be an interesting place to be.
Just seemed like gimmicks to make Microsoft dev look interesting. Didn't make me care about Microsoft dev.
[MT] I hear what you're saying. I did try to pull out some interesting things that I thought were a bit different about Windows/Phone app development. I could have done an hour on other topics like our multi-language approach or the way in which we handle the application process lifecycle or some such but I wanted to try and provide a few shiny things. I'd be happy to talk to you about other aspects any time if you wanted to talk about other things.
This talk was given by a humorous robot who'd been programmed with unquestionable loyalty to Microsoft.  Probably manufactured by Microsoft. Who uses the force.
[MT] Guilty as charged. When I grow up I want to be a real boy like Clippy