It's getting increasingly difficult to differentiate a phone from a tablet from a PC and, today, while watching the Microsoft stream from Mobile World Congress one of those differentiators for "Windows Phone" seemed to disappear – the absence of a physical keyboard.
Along with the launch of another large-screen Lumia, the 640XL to go alongside the 1320 and the 1520;
came the announcement of the new Universal Foldable Keyboard;
and a demonstration of that keyboard working with a phone running Windows 10 with the "Detail" section on that product website noting that the keyboard will also work on Windows Phone 8.1 Update 2.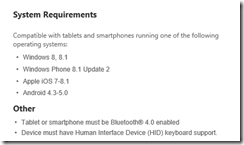 Part of the same event demo'd more of running the forthcoming Universal Office Apps on Windows 10 on a phone. I haven't captured a screenshot of Excel in use on the phone but it was part of this demo section and it was pretty impressive as was the Outlook demo;
and so a typical laptop worker can sit on a 6" phone running Windows 10 and run a version of Office and bang away on their foldable, bluetooth keyboard and all they really need is a big screen to put their content onto and, presumably, they could make use of something like;
as detailed in this blog post to wirelessly project this onto an external monitor and now they've effectively constructed a 'desktop PC'.
I'm not sure that in Windows Phone 8.1 this would provide the 'perfect' experience when compared to working on a laptop and I don't know how it'll work in Windows 10 on a small mobile device as I'm not running Windows 10 yet on anything under 8" and, of course, it's a preview right now rather than a finished product.
But…it seems that all the pieces are there to make this work today and to refine it into a more mainstream idea in the future?