I've been trying to fathom this out for quite a while now. Like an increasing number of people, I work quite a lot from home and I need good connectivity. Generally, my connectivity is better than the WiFi networks I use in most of the offices that I visit but, of course, I'd like more bandwidth than the 8-10mbps that my current service provides (I know, a lot of people in the UK don't get 8-10mbps – you have my sympathy).
I get my broadband via BT at the moment and trying to figure out whether I can get more bandwidth via the regular phone line appears to be a never-ending loop.
I go to the BT Infinity website – http://www.bt.com/infinity. There's a simple box where I can type in my phone number and the UI then tells me;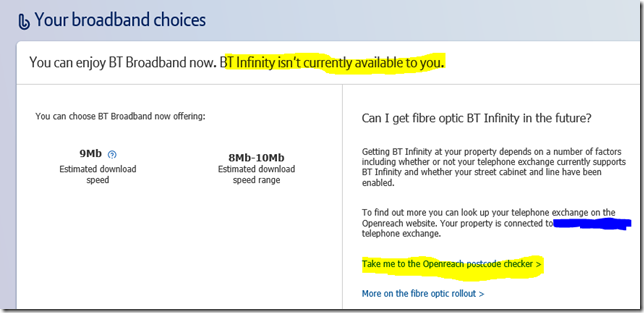 Ok – it's fairly clear that I can't have Infinity right now but I can follow the highlighted link to use the "Openreach postcode checker" to see when it might be available. So I go there (http://www.superfast-openreach.co.uk/where-and-when/) and type in my post-code and it tells me;

where A.O. means "Accepting Orders" – so my exchange is ready to go and this site then tells me that I can buy this now;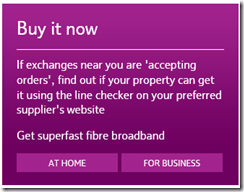 or, at least, that my exchange is "accepting orders" but the reality is that my property isn't enabled. However, I follow the "At Home" link;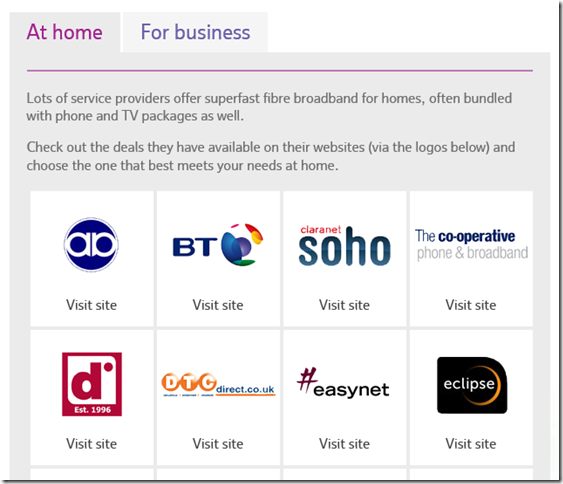 and so I tap on the "BT" website link which leads me to a page where I can;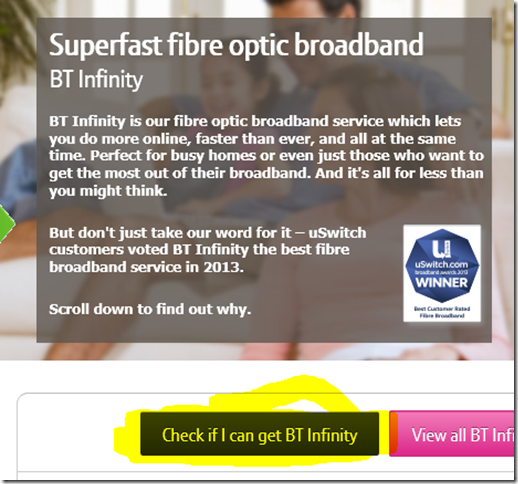 and that leads me back to where I started;

and now I'm into an infinite loop where there's no more detail available than "Not Available" which seems a bit minimal

That said, I did contact BT about this a few weeks ago. First, I phoned them up and they told me "we don't have any more information" and then I asked them on Twitter;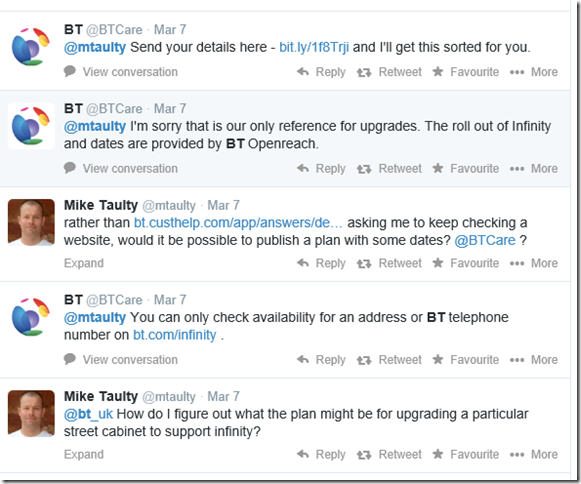 and I did fill in the form that BT asked me to complete but, unfortunately, I never seemed to get any mails back from them

I'm not sure why the rollout of fast broadband has to be this kind of closely guarded secret – it seems that there must be a schedule somewhere and publishing it would be a matter of a few mouse clicks so why the cloak-and-dagger when it comes to finding out what's happening with fast (phone line) broadband in a particular area?