A few years ago, I had a manager who wanted to analyse how much traffic the members of my then team were getting to their blog sites and so he had us implement Google Analytics on our blogs.
At the time, I wasn't overly keen as I wasn't sure that the measurements were something that would be followed up long term (they weren't, they were forgotten) and I also wasn't keen on using Google but, hey, they do seem to have a pretty decent analytics package so why not?

Today, I'm kind of grateful for being pushed in the direction of using Analytics as it has meant that for quite a few years I've had a consistent measurement that I can look at from time to time to see how traffic is trending.
It's fair to say that in recent months I've not been doing a whole lot of posting on the site averaging around 3-4 posts per month versus in the past where I might have sometimes published 20 or 30 each month. It's a side-effect of having been doing a lot of in-person activity and also of figuring out what to write about in the new world of devices and services.
Anyway, I thought I'd take a look at how Google has been reporting my traffic and I thought I might as well (in a circular way) write that up on the blog itself so that I can refer back to it in the future.
February 2012 – February 2013
February 2011 – February 2012

February 2010 – February 2011

February 2009 – February 2010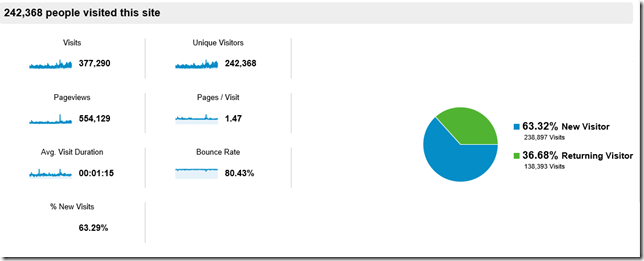 I don't have any more data beyond that but it looks like, for now, the high spot was back in 2010/2011 and I've got some work to do to try and get back to that kind of level of traffic coming onto the site.
Onwards and upwards…I'll update the post in 2014