To flag the launch of the new Windows 8, Windows Phone App Rewards Programme here in the UK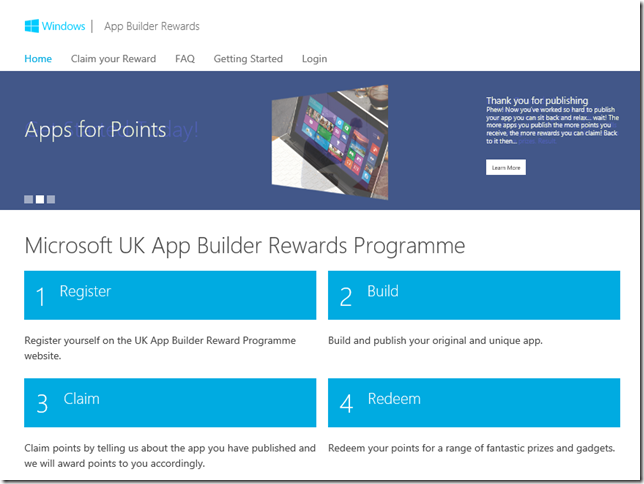 I have been publicly goaded on Twitter by my colleague Martin into giving some stuff away.
Please note that this is only applicable to people who are resident in the UK.
So far, I've searched through the Microsoft cupboard and found (bizarrely!)…
How Will You Get What You've Won?
We have a colleague who promises me that this can be achieved

so we'll use Twitter to figure out how to get in touch and deliver what you've won. This may involve some following/direct messages but I'm assured that it can be done. We'll be in touch.
Windows Store Accounts (20)
We wanted to give a small number of developers a way of getting a kick-start on the Windows Store and an easy entry into that App Rewards programme and so we figured that a good way to do that would be to (effectively) give away some Windows Store accounts.
We have 20 of these to hand out to the first people who tweet #gimmeastoreaccount.
I'll use the page at Twitter to figure out any winners.
Update – and the winners came in on this one too – I'll have to figure what we do here for people who already have Store accounts…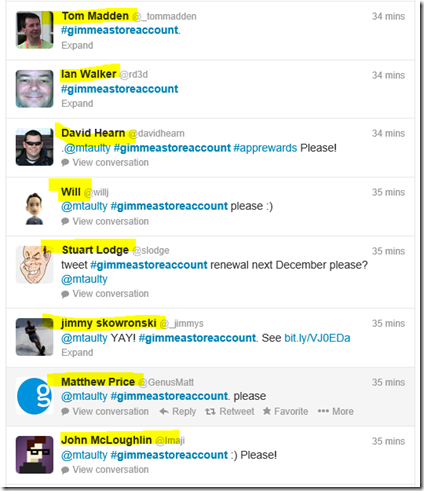 Star Wars Figures (4)
4 'Life Size' Star Wars cut out figures of Han Solo, C-3PO, Darth Vader and Yoda. Just tweet #gimmethecutout and #apprewards to win – first 4 people will get those figures in the order listed.
I'll use the page at Twitter to figure out any winners.
Update – the tweets don't lie, here's the Twitter steam of winners (within 3 minutes);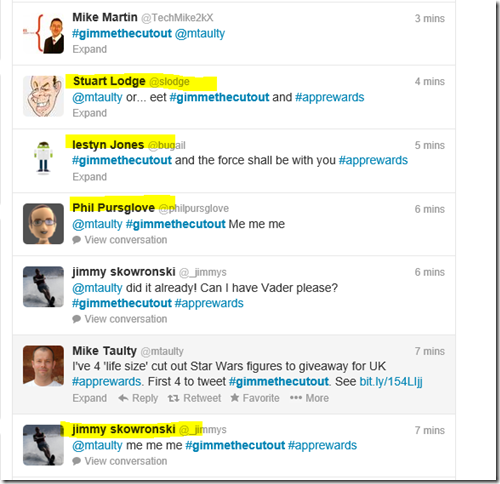 We'll be in touch to give Jimmy his Vader, Phil his Han Solo, Iestyn his C3PO and Stuart his Yoda!
Atari Arcade T-Shirts (20)
Also in the cupboard were 20 of the Atari Arcade T-Shirts;
I thought I'd give them away to the first 20 people who tweet #gimmethetshirt ( good if you include #apprewards too ) and, once again, you'll need to be in the UK for us to send out the T-shirt. You might want to add your t-shirt size and we'll do our best to get you the right size.
I'll use the page up at Twitter to figure out the winners and that looked like (in very bad formatting);
Update – the winners came in on this one;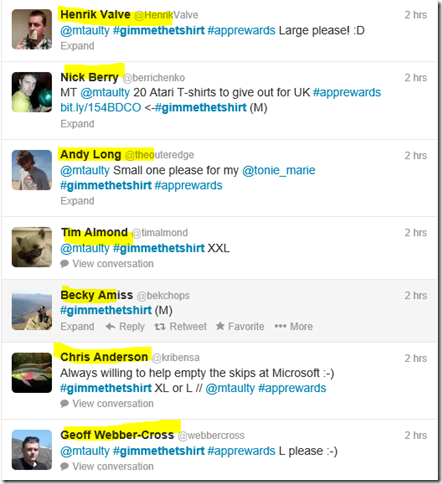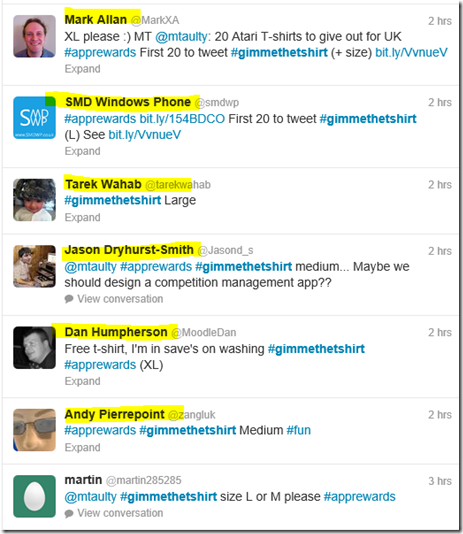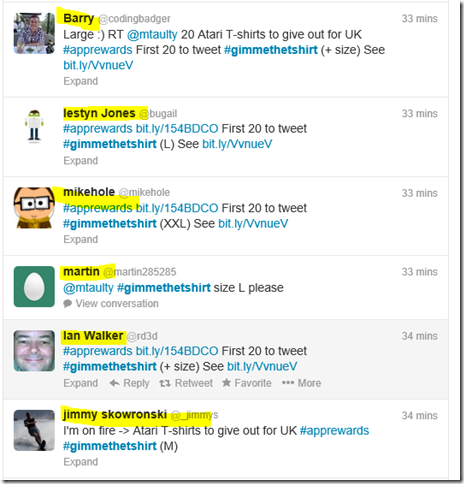 I'm going to look for more stuff to give away – this could get out of hand