I spent most of the day up at the first DDD North event in Sunderland yesterday and had a really good time – major congratulations to the guys that organised the event and thanks to speakers, sponsors, helpers and delegates who all devoted their time to making it such a big success.
I hope (and I'm sure) that more will follow

I took a few photos while I was there – some are a bit blurry as I took my old camera and I'd forgotten how to use it and also I didn't want the flash going off in various places. Anyway, I put them onto SkyDrive linked from below.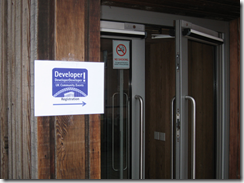 and then a proper ( and non blurry! ) photostream from martin_88 showed up on FlickR;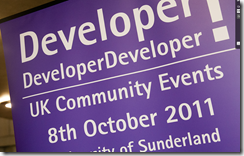 and another one from geek_cranialstrain;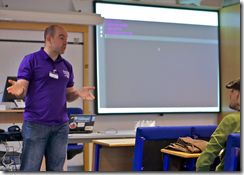 and more from Craig Murphy;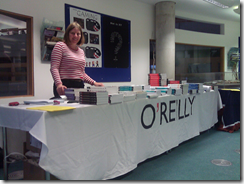 I'd also like to thank people who came along to my talk on the Reactive Extensions for .NET – this was a rewritten version of a similar talk that I've given in the past and my intention is to capture the talk as I delivered it and drop it onto my website here in a day or two.
I had a lot of fun with it. Being a Saturday, I dropped all slides ( people who know me will know I usually use a few slides for pictures where I think they can add a lot of value ) and just spent an hour in Visual Studio writing some bits of code to try and illustrate the topic. We moved pretty quickly and covered a lot of ground in an hour and for the first time in my life I managed to finish a talk with "That's all folks!"

I hope to see you at the next one!