I got a new laptop from work (thanks work

) – previously I'd been running my own Dell XPS 1640 and that's been the best laptop I've ever had – I particularly liked the 1920×1080 RGBLED backlit screen which was just the nicest screen to stare at for hour after hour each day.
Anyway, the beast has arrived and here it is in all its glory;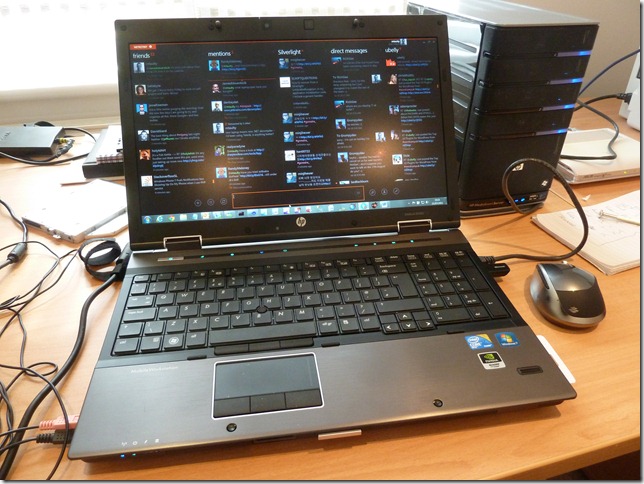 ( yes, I know – the desk is a mess – I've been messing about trying to transfer stuff from one PC to another

).
It's an HP Elitebook 8540W with Core i7 Q840 processors running at 1.87GHz and with a wopping 16GB of RAM and an Nvidia Quadro FX 880M.
For the first time, I've managed to go SSD and have a 160GB SSD sitting in this machine matched up with a 500GB 7200rpm regular drive in the other bay.
I've got the OS and applications installed to the SSD and ( largely ) data sitting on the other drive – so far, the performance seems to be pretty impressive.
What I don't quite understand on this Elitebook is what HP have done to the keyboard;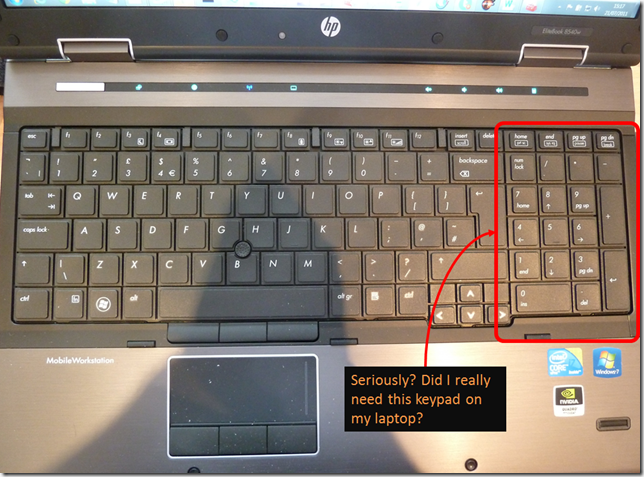 but other than that it all seems fine.
As an aside, it wasn't so many years ago that if a machine had arrived with 16GB of RAM in it and 8 (logical) processors then people would have come along and wanted to have their photograph taken with it – now it's commodity