I'm a big fan of the Reactive Extensions (Rx) and I've put together a post or two in the past and also even done a talk or two around the topic so it was great to see that the Reactive Extensions team have put out their first full release of the framework this week

There are actually 2 releases – the stable release which is at V1.0 and the experimental release which is at V1.1 and the documentation is over on the servers at MSDN.
The other thing that's really cool is that the team have published an Rx Workshop set of videos to Channel 9. I spent a little time watching all of these today and thought that they were especially well put together.
You can find the start page by clicking the image below;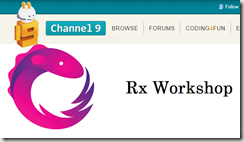 and there are 6 videos in the series right now. The one thing I'd say is that it wasn't entirely clear to me which order I should watch the videos in ( there needs to be a "Video N" card held at the start of each video

) but I went for;





enjoy