You may have noticed that there have been some announcements around Windows 8. At this early stage, it's not my place to comment around a future version of Windows like this but I thought I'd provide some links to what's already been publicly said;
The All Things Digital Video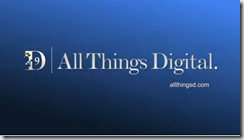 Click the picture to jump over to the site and watch it yourself. One thing I definitely picked up on was the news (and I quote directly here) that there is a;
"new developer platform based on HTML5 and JavaScript"
The Computex Video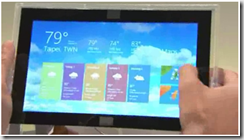 Click the picture to jump over to the "Next at Microsoft" blog which is the only place I could find for this video right now – there's a lot more in this video in terms of demos and so on than the previous video and a large range of devices on display.
The YouTube Video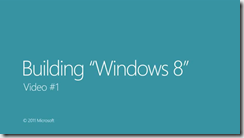 which I noticed has already had 1.2m viewings.
What you can do to find out more information in the future?
The Build Event
You can go and register for the event and then sign up for news and so on to keep yourself up to date. I'm hoping to be there if the stars align

Speaking of keeping up to date;
The Blog

Sign up to the Windows blog to keep up with the updates.
Nothing more that I can say right now and I'll not be answering comments on this post – it's too early at this point for "discussion".