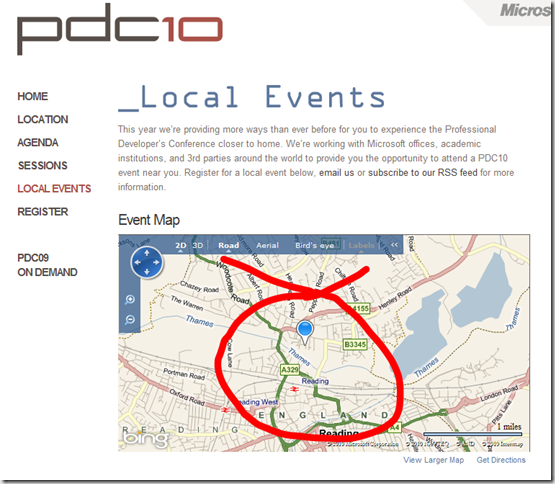 I'm not attending the PDC in Redmond this year. It'll be the first one that I've missed in around 7-8 years but the timings clashed with some other things that I've got going on back at home.
However…the PDC is going out onto the web so I'm not going to miss anything.
Except…
Conferences on the web are great but it's not the same as being at the event. At the event you can pick up the general atmosphere and you can chat to other people about what you see. I think that the "chatting to other people" is a massive part of any of these technical gatherings.
So, to try and go some way towards re-creating that we're putting on a "local PDC" at the Microsoft Campus in Reading on the 28th and 29th October ( the PDC days ).
We're going to align this with the content coming out of the US and so it will run;
4.30PM to 12.00AM on the 28th October
4.30PM to 8.00PM on the 29th October
and we'll have pizza and beer and so on to keep people on top form

I'm not 100% sure just yet quite how it'll work logistically in terms of how many concurrent US sessions there might be or whether we'll be able to find enough rooms to get them all streamed or whether we might have to have a voting system to determine which sessions get coverage and which don't. That needs a little working out…
But if you're interested, click on the big picture above to sign up and I'll see you there at the end of the month.