I've been running this blog for around 6-7 years and for a long time I hosted on WebHost4Life.
It was great. Cheap and cheerful hosting that worked fine for me. Then a number of months ago they seemed to get bought up and it all went wrong. An automatic migration process didn't work. The ( previously brilliant ) support folks changed into ones that seemed to struggle with basic queries.
Disaster. Don't ask me, search Twitter and I doubt you'll find positive sentiment out there.
So, a few months ago I moved hoster to http://www.cyberhostpro.com/ who, so far, have been great for me and, at the same time, I cancelled my WebHost4Life account and removed my domains from there.
However…I just got an email;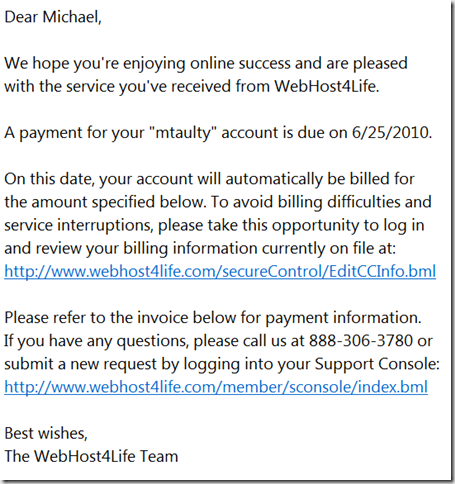 Hmmm. I decided that it might be a good idea to go and visit the console for billing to check whether my cancellation was recorded and I saw;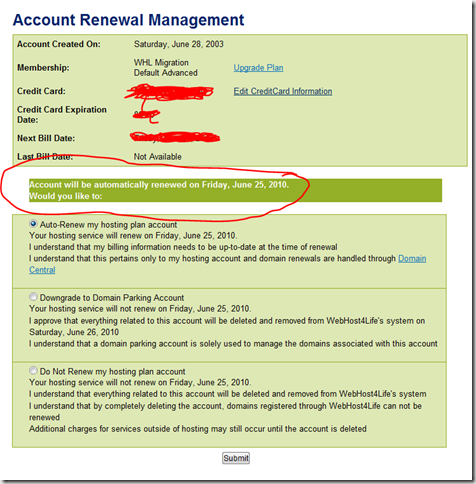 so I go through the cancellation process;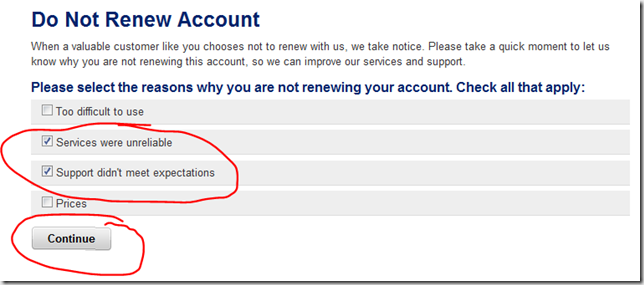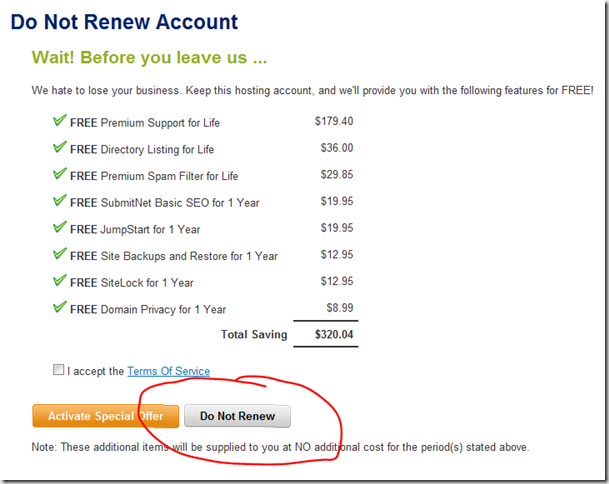 and what do I see when I've finished?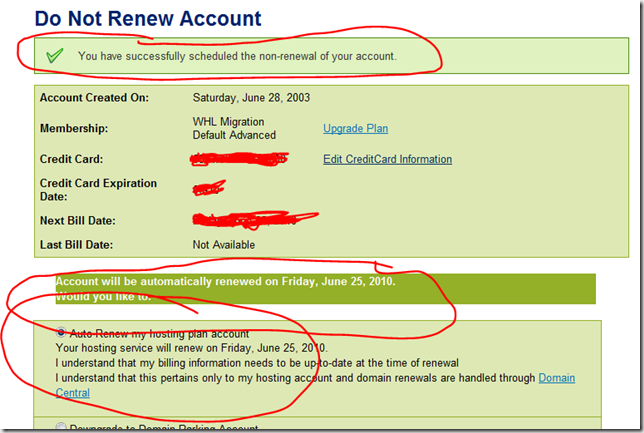 AAAARRRRGGGHHH!
So I used the online chat facility on the website to chat to a Billing Support person who was really friendly. Transcript is here;
Thank you for contacting support.

Please hold for the next available operator to respond.

You are now chatting with 'Preston Sanders'

Mike Taulty: Hi

Preston Sanders: Hi Mike. My name is Preston, how are you today?

Mike Taulty: I'm fine thank you, you?

Preston Sanders: I'm great, thank you. How can I help you today?

Mike Taulty: Well…

Mike Taulty: I have just received an email saying that you're planning to bill me.

Mike Taulty: But I have tried many times to cancel my account.

Mike Taulty: and I've just visited your "Account Renewal Management" page

Mike Taulty: and it (once again) has a tickbox set that makes it look like I want to auto-renew my account

Mike Taulty: and I don't

Mike Taulty: I want to cancel it

Mike Taulty: please

Preston Sanders: I apologize for any inconvenience this has caused you.

Mike Taulty: I've just gone through your "do not renew" process again

Mike Taulty: and when it finishes

Mike Taulty: there's a box on the screen saying "Account will automatically renew on Friday, June 25, 2010"

Mike Taulty: I mean ?

Mike Taulty: is there a way I can get confirmation that you're not planning to charge me for a service I'm trying to leave and haven't used in approx 3 months?

Preston Sanders: Our records show that you have already disabled the automated renewal for your hosting account 'mtaulty'. Hence, it will not be renewed anymore.

Mike Taulty: ok

Mike Taulty: but you're sending me emails telling me I'm about to be automatically billed

Preston Sanders: You can ignore the emails which you have received regarding the hosting renewal.

Mike Taulty: ok

Mike Taulty: so you're saying that I won't be billed?

Preston Sanders: However, your domains 'miketaulty.com', 'mtaulty.com' and 'taulty.com' are set to Automated Domain Renewal Service.

Mike Taulty: those domains are not on your servers

Mike Taulty: to the best of my knowledge

Preston Sanders: Ah, okay.

Mike Taulty: so

Mike Taulty: is there something set up there that you're going to bill me for?

Mike Taulty: I'm afraid ( after 5-6 years of use ) I had to leave your service as it fell apart.

Preston Sanders: No, you will not be charged from our end.

Mike Taulty: ok

Mike Taulty: thanks

Preston Sanders: You're welcome!

Preston Sanders: Is there anything else I can assist you with today?

Mike Taulty: No, that's great – I'll copy the conversation just in case 🙂
and so I'm just logging this here in case I need to refer back to it in the future and, potentially, as a little bit of a warning about WebHost4Life – all is not rosy over there any more and that's a real shame as they were great for a while.
I remember at one time there was a prominent link on the WebHost4Life website saying something like;
"Not happy with our service? Email our director"
That link seems to have gone these days 😦