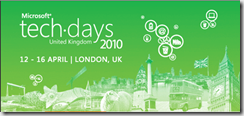 I wanted to do a call out for the Client development day that we're running as part of the UK TechDays event. This is a FREE event that's running all day in London on the 15th April and it's targeted at developers who are interested in hearing about client development with .NET Framework V4.0 and for Windows 7.
The agenda on the website doesn't quite do it justice in that we've managed to get some really fantastic speakers for this day;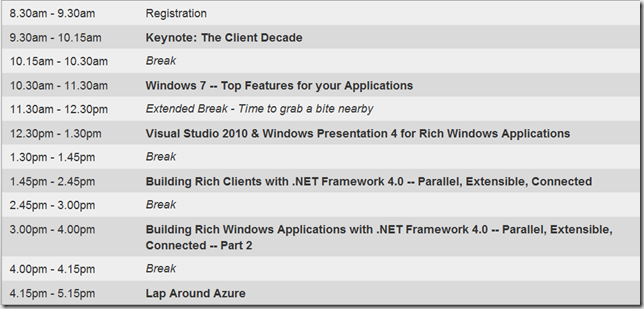 Specifically, there's 2 full sessions of walking through features of .NET Framework V4.0 that apply to client development with Ingo Rammer of ThinkTecture;
Ingo's one of the very best tech speakers around and we're thrilled to have him at this event. If you want to get a deeper dive into what's present in .NET 4.0 that a Client developer can take advantage of, then this is the place to be.
We're equally lucky to have a session on Windows Presentation Foundation 4.0 delivered by Ian Griffiths who's a WPF/Silverlight guru, MVP, consultant, developer, top speaker and also teaches WPF/Silverlight for Pluralsight
oh, and book author 🙂
But there's more – we've got sessions from local folks in my team,
Paul Foster will be walking you through the features of Windows 7 that you can take advantage of in order to make your applications first-class citizens of Windows 7.
Marc Holmes will set the scene ( and no doubt spark some controversy along the way 🙂 ) by talking about client applications in general and whether we think client apps are dead or have a vibrant future.
and then there's more – given that we're talking about "Client applications" the obvious question is "Client for what?" and, more frequently, the answers is "Client for Cloud Services".
Windows Azure has been through a lot of changes since announcement at PDC08 ( including going live 🙂 ) and local Azure guy David Gristwood will give you an update on where Azure is, where it fits and what Cloud services you can make use of in your client apps today.