Ooh, check out those graphics 🙂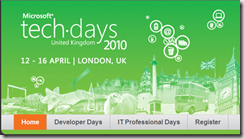 We're putting on a week of free ( free, free, free ) technical events in London in the week of April 12th to 16th. There are two events every day with one focused towards the "IT Professional" and the other focused towards the developer. There's also fringe events organised by the community that I'm hoping will expand out in more detail ( like the main days themselves ) over the coming days/weeks.
The developer days line up looks like this;

I've had a small hand in planning some of those days and the current plan is that I'll be speaking in slots on 3 of the days ( if the logistics don't kill me first 🙂 ).
The shape of the "Windows 7" day is down to me and whilst I'm probably not supposed to share the agenda, we've got some great speakers lined up for that day including Ian Griffiths and Ingo Rammer.
Did I mention that it's free? Click the image above to register.