Just a quick plug for a talk I gave last week at the London Silverlight User Group on the Managed Extensibility Framework in Silverlight 4. Ian Smith kindly recorded this with great skill and speed and has the video available if you click the picture below;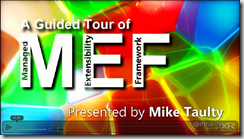 The Silverlight User Group is growing really quickly – I'd say about 100 people turned up on the night which is all the room could take so I guess bigger venues are going to be called for in the future and it's great to see so many people building with Silverlight and keen to get out and chat to others about it.
On the same evening, Johannes Kebeck also presented on the Bing Maps Control for Silverlight and you can find his talk via Ian's link here as well so it's "2 for the price of one".