For no reason whatsoever, I found myself wandering across to the "Bing Maps Silverlight Control Interactive SDK" today.
It was a random moment when I probably should have been making myself a cup of tea but I'd seen the announcement on the Silverlight blog and I'd followed it through to the video that's up here and I'd ( honestly ) not thought that I would get too excited about it.
But I did. I'm very, very impressed by this new Silverlight control and I guess there's 2/3 reasons that excite me about it;
It's much more pleasant to use and feels much more fluid and rich than the AJAX version. Here are the two versions side-by-side;
Go run them both. Try them out. There's a qualitative difference in the experience of these two things.
It's Silverlight. What that tells me is that I'll have no problems compositing this [with/underneath/over-the-top-of] any other Silverlight content that I want like video, text, graphics, user interface, anything that I like. Mmmmm.
It's Silverlight. What that tells me is that I'll have no problems programming this thing just like I program anything else with Silverlight with a bunch of declarative XAML and a bit of C#. If you try out the Silverlight control then don't forget to look at the source code sitting behind the examples – there's nothing to it.
Oh, and then I right moused on the app and took it out of browser and ran it on the desktop – "Look Ma, No Browser";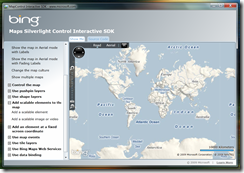 Oh, and then I installed the app onto my iMac and ran it on the desktop over there as well;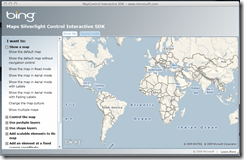 Very, very cool stuff – definitely one I'd like to spend more time exploring.