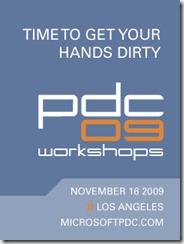 It looks like I've struck Gold and managed to get myself lined up to help out at PDC09 on the pre-conference workshop;
Getting the Most out of Silverlight 3

"Come learn how the robust features of Silverlight 3 help developers to create innovative, compelling cross-platform Internet applications without being limited by HTML and Javascript. In addition, hear some of the best practices and patterns for building Silverlight applications, and find out how to use Microsoft Expression Blend to get the best productivity between designers and developers using them."
this is being run by "The Griffs" – namely Ian Griffiths and Rich Griffin who are both top-notch UK Silverlight/WPF/Expression guys. There's also a Channel 9 page here for the session.
I'll be there at the workshop all day helping the guys out by;
Applying talc to any sweaty keyboards
Making sure the guys are appropriately made up for the camera
Fighting back Silverlight/WPF groupies besotted with our heroes
but, more seriously, I know it's going to be a great day so if you're trying to decide which pre-conference workshop you should attend then stop dithering and sign up today!
If you do come along then remember to say "hello".