I watched the TechEd (US Developers) Keynote just yesterday.
and you can see more on the TechEd Online site including a changing set of videos at the bottom of the page such as these ones which popped up when I visited the site;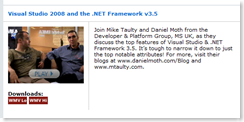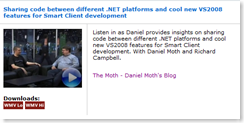 Which kind of freaked me out as I wasn't expecting to be greeted by my own ugly mug when hunting down resources from TechEd US ( that video is from TechEd Europe, you wouldn't believe how hard it is for someone like me to get to a conference like TechEd US ).
During the keynote I started to get a little bit panicky.
There's a lot of new stuff coming on top of all the new stuff that's already coming 🙂
I get a bit edgy when I know there's lots of new things around that I should probably know about but don't yet know about.
Some of the things mentioned were a little less new than others but still pretty exciting.
There was mention of Silverlight 2 Beta 2 of course and also some talk about the improvements to WPF in .NET Framework V3.5 Service Pack 1 but I feel I've got those relatively well covered even if it's extremely unlikely that I'm going to start writing pixel-shaders any time soon 🙂
There was mention of ADO.NET Entity Framework and Data Services again in .NET Framework V3.5 Service Pack 1 but I feel that I'm on relatively safe ground with those.
There was talk about SQL Server 2008 – specifically spatial data, date time enhancements and filestream. I'm not too bad on some of that stuff as I made some videos around it and spent some time on it.
But then there's SQL Server Data Services which I haven't really looked at to date.
But then there was also some talk of things "yet to come" 🙂 such as;
I've a feeling there's an awful lot of reading, experimenting, coding needed to try and get a grip on all these different bits.
Maybe I need to focus! 🙂